Radiofrequency microneeding is a technique that uses radiofrequency (RF) energy to heat tissue and stimulate subdermal collagen production in order to reduce the appearance of fine lines and loose skin. The technique induces tissue remodeling and production of new collagen and elastin in the skin, resulting in smoother and tighter skin.
RF microneedling is an effective treatment for acne scarring as well as a good alternative to surgery in those looking to achieve improved skin elasticity. The treatment uses a hand piece containing a tip that has 49 sterile needles that pass into the skin at controlled depths to deliver energy to tissues within the different layers of the skin, including the deep dermis.
It can be used to target specific areas and concerns including:
Acne scarring
Marionette lines
Eyebrows
Neck
Decolletage
Chin and jawline
Stomach
Thighs
The stainless steel needle tips on the disposable microneedling treatment head, accurately penetrate the skin to a specified depth.
Energy is then discharged from the needle tips at this depth. The needle penetration causes a wound in the skin, which as it heals will encourage collagen formation, and the energy release stimulates coagulation which manifests as skin tightening.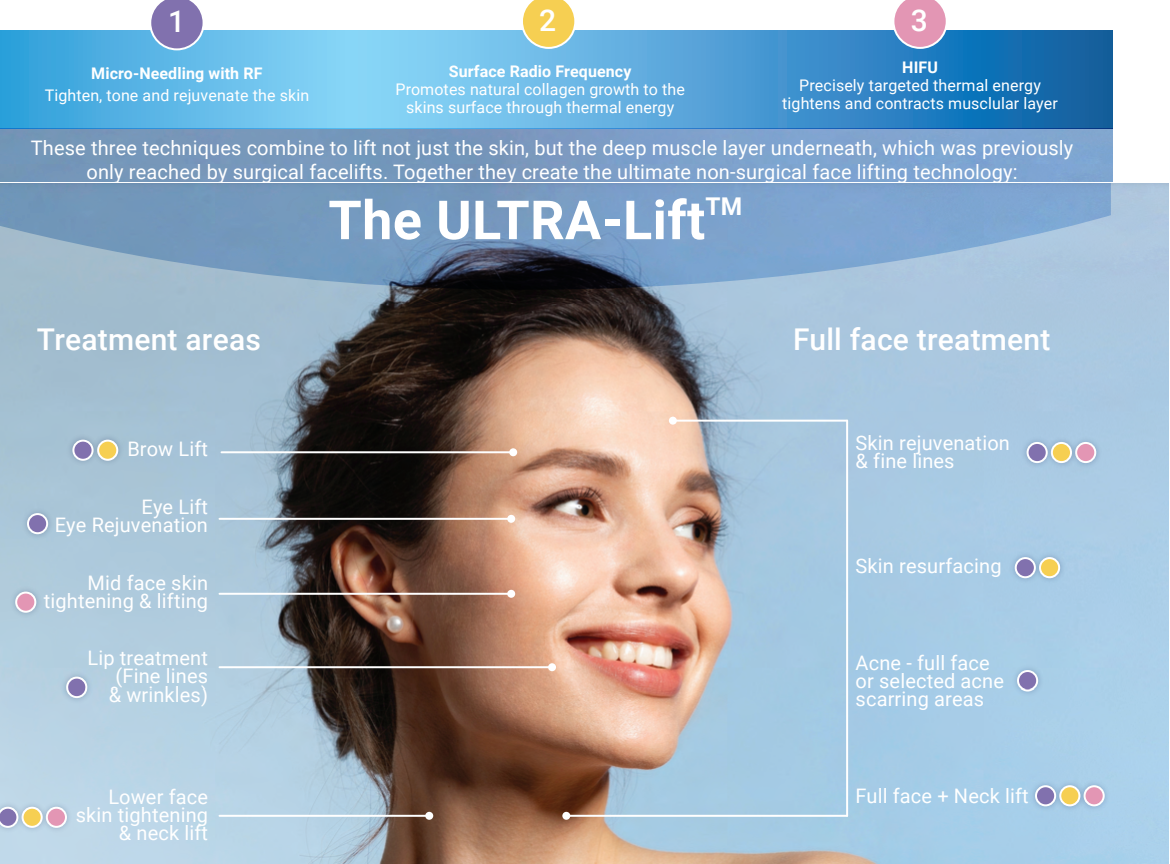 Treatment modalities using Ultracel2: triple modality skin tightening machine
What does the treatment involve?
Radiofrequency microneedling can be uncomfortable, so local anaesthetic cream is applied to your skin prior to treatment.
Immediately after treatment your skin will be flushed. There will be redness and potentially small pinpoint bleeding. This usually settles within a few hours. You will not be able to wear makeup for 24 hours until the skin has settled.
You will be given instructions on how to look after your skin in the days following treatment and a follow up will be arranged for review.
How long do results last?
It can take a few weeks for results to become visible as time is needed for collagen stimulation within the skin. However, results can last for several months especially when treatment is combined with quality skincare products. You may need repeat treatment after 8 weeks if it is felt that more improvement can be achieved.
However, combination therapy with other modalities from the ULTRACEL2 device is recommended for optimizing treatment results.
Dr Fairris is very approachable, I always feel listened to and she takes the time to explain everything in detail
Non medical consultations with our in house experienced therapist is free. Medical consultations with Dr Fairris require a £50 deposit to secure your appointment.
Your privacy is important to us.
Dr Fairris uses only market leading products.
RFM Treatments are carried out by a highly experienced and qualified aesthetic doctor or a highly trained Aesthetic therapist
We aim to give natural looking and subtle outcomes
On-site parking and close to
J10 of the M3.
For ENVY, the consultation is free with our experinced in-house therapsit
Visit Us
9-10 Norman Road, Winchester SO23 9PW
Free Paking on site
Opening Times
Monday 10am-2pm
Tuesday 9am-5:30pm
Wednesday 9am-5:30pm
Thursday 9am-5:30pm
Friday 9am-6pm
The Clinic is located at the junction of St Cross Road and Norman Road.
There is free parking in the grounds.
The entrance to the Clinic car park is located on St Cross Road and is marked with white signs carrying the Wessex Skin Clinic logo.
If you are approaching from central Winchester the clinic is located on the left approximately 500 yards after the Everyman cinema.
If approaching from the M3 junction 11, the clinic is located on the right approximately 500 yards after the BP garage.