The Obagi Blue Peel is a superficial to mid-depth Trichloric acid (TCA) peel.
By adding a blue dye, Dr Obagi made the peel safer and the results more reproducable.
The Obagi Blue Peel works best on the face however, with great care it can be used on the neck, chest or back of the hands as well.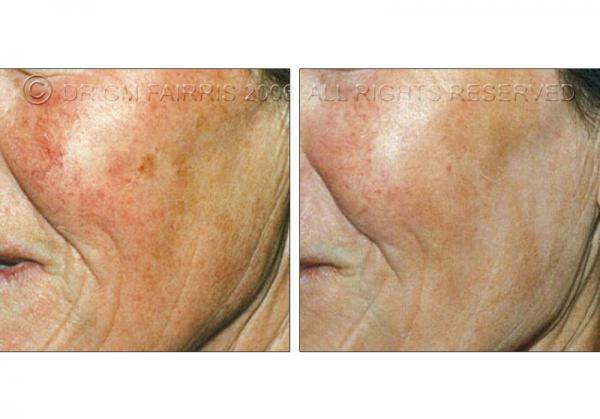 The Obagi blue peel treats:
Stretchable wrinkles and scars
Superficial and deep Hyperpigmentation (e..g Melasma, acne scarring)
Skin laxity
Large pores
Actinic Keratoses
Solar Elastosis
Lentigo Solaris
Excellent for skin tightening
No systemic toxicity
Rapid healing with minimal pain
Procedure can be done in clinic
More information about Obagi Blue Peel
Is the Obagi blue Peel safe?
Yes it is, in experienced hands.
As with all treatments, a good understanding of the product and patient anatomy as well as adequate training and experience is essential to minimise risk.
There is a risk of scarring, post inflammatory hyperpigmentation (PIH) and infection with all TCA peels.
does treatment hurt?
There is an uncomfortable but tolerable stinging sensation that lasts for 3-4 minutes after each coat of peel is applied.
People with an average thickness of skin will need two coats.
HOW SHOULD I PREPARE FOR TREATMENT?
It is essential that the skin is pre-treated with Obagi Nu-Derm for at least six weeks before the peel.
HOW WILL I LOOK IMMEDIATELY AFTER TREATMENT?
The skin will be red and swollen after treatment with redness and swelling progressing over the days after treatment. This will be followed by several days of peeling of the skin which will be unsightly.
It is likely to take 10-14 days for the skin to heal (depending on the depth of the peel)
IS THERE ANY IMPORTANT AFTERCARE?
Yes, meticulous aftercare is essential.
If you are treated at the Wessex Skin Clinic:
You will be supplied with the aftercare creams and shown how to use them.
You will be given detailed written information on how to look after your skin in the days and weeks following treatment.
HOW SOON AFTER TREATMENT WILL I NOTICE AN IMPROVEMENT?
You will notice an improvement in skin evenness and tone within three weeks, and skin slackness after two to four months.
HOW MANY TREATMENTS WILL I NEED?
Most people need one. People with more severe problems will need 2-3 Obagi Blue Peels.
HOW LONG DOES THE IMPROVEMENT LAST?
The improvement will last for many years if you continue to use a maintenance program of  Obagi Nu Derm.
WHAT SIDE-EFFECTS ARE THERE?
Anticipated
Temporary redness and swelling
Temporary dryness and flaking
Unanticipated
Infection
Blisters and shallow ulcers
Uncommonly except in people with dark skin or melasma: a temporary increase or reduction in skin colour
Rarely: scarring or permanent changes in skin colour
WHO SHOULDN'T HAVE AN OBAGI BLUE PEEL?
Women who are pregnant or breast feeding.
If you are prone to forming keloid scars.
Complimentary consultations
A £50 deposit is required to secure your appointment but is redeemable against any treatment.
All clinical sessions are for patients with cosmetic concerns.
At the Wessex Skin clinic we only use market leading aesthetic products.
All treatments are delivered by an experienced and highly qualified aesthetic doctor.
We aim for naural looking, subtle results.
On-site parking and close to J10 of the M3.
Contact the Wessex Skin clinic today to make a no obligation, complimentary appointment with Dr Catherine Fairris to discuss the Obagi Blue peel further.