Profhilo® is a high concentration hyaluronic acid (HA) gel, designed to improve the firmness and elasticity of aged skin.
It stimulates the production of collagen and elastin (key components of the skin that provide it with strength)
Overall, it works to improve the hydration and firmness of the skin in the area it is injected into. It is very effective in treating the skin of the face, back of the hands, decolletage and neck.
Example of Profhilo® result provided by HA derma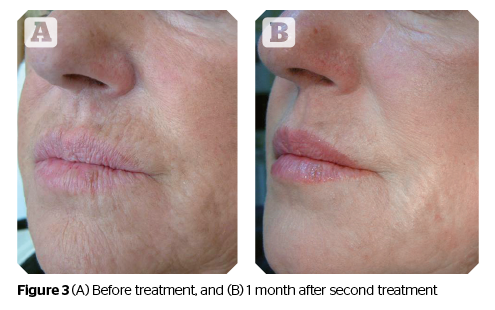 Profhilo® is specially formulated. It contains one of the highest concentrations of ultra pure hyaluronic acid of any product of its type on the market.
Within the epidermis it improves the quality of keratocytes to improve skin firmness. In the dermis it stimulates fibroblasts to increase collagen and in the subcutaneous tissue it strengthens fat cells.
Profhilo® does not increase volume within the skin and therefore its effects will be different to that of other HA dermal fillers.
Profhilo® is primarily for hydrating the skin. The HA it contains spreads and distributes evenly within the skin to give a fuller and more firm texture to the skin.
Will Profhilo® work for my skin?
From around the age of 30, we start to lose collagen, hyaluronic acid and elastin from within the skin.
This is a universal change regardless of your skin colour or genetic make-up. This change is likely to be more noticeable in older patients resulting in dull, sallow, skin with lines and wrinkles.
Who will it benefit?
Anybody suffering from dull, sallow skin that has lost its elasticity.
There is no upper age limit to who can have Profhilo®, in fact the most drastic results are often seen in older patients
However, treatment in patients over 65 may have to be altered, extra dosage may be required and combination with other treatments e.g. dermal fillers are likely to be needed.
Profhilo® is commonly used on the face but it is also effective for the decolletage, arms, knees, hands and any part of the body that has lost elasticity and firmness.
How does it work?
Profhilo® is injected in pre-determined anatomical locations under the skin.
The standard protocol consists of two treatments approximately 4 weeks apart (no sooner than 21 days and no later than 40 days).
The HA disperses quickly around the area that it has been injected in.
Results are usually visible within a few weeks of the second treatment
Treatment response is usually 4-6 months
The benefits
Profhilo® improves skin hydration
It gives clinically improved skin elasticity
Profhilo® also increases collagen and elastin
Profhilo® gives you smoother and brighter looking skin
Initial results may be subtle but effects are enhanced with repeated treatments.
Treatment at Wessex Skin
Dr Fairris will assess you to decide whether Profhilo® is suitable for you alone or perhaps in combination with other treatments e.g. dermal fillers
Profhilo® has minimal down time, it only takes 30-40 minutes to complete the treatment. However, for optimum results treatment will need to be completed at least twice (4 weeks apart) and in some cases an extra treatment will be needed, especially if your skin is particularly dehydrated.
Risks and Contraindications
There are no long-term side effects of Profhilo®
The risk of allergic reaction to Profhilo® is significantly reduced as it is an ultra pure HA compound (no allergy testing is required)
Patients with disorders of the immune system (e.g. HIV, Autoimmune disease or diabetes) should consult their specialist physician before treatment.
Excellent service! Friendly, quick and professional. Easy to book appointments. I highly recommend it and can safely say that it was the best decision I made.
Dr Fairris keeps up to date and employs the latest techniques in aesthetic medicine
Your treatment will be carried out by Dr Catherine Fairris who has extensive experience.
You may require more than one modality to achieve you desired aesthetic outcome
 Medical consultations with Dr Fairris require a £50 deposit to secure your appointment.
All clinical sessions contain a mix of people with medical and cosmetic concerns.
On-site parking and close to J10 of the M3.
To arrange a free consultation to discuss whether your mole(s) would be suitable for this treatment, call us today.