An everyday skincare brand created by Dr Sam Dhatt (a world renowned Physician and Chemist) which combines some of the oldest skincare ingredients from around the world with some of the newest and most advanced ingredients of the 21st century
His range is designed to protect the skin against signs of ageing, sun damage, sensitivity, breakouts and environmental factors.
The products are FDA approved, cruelty free, environmentally conscious, paraben free and the packaging is fully recyclable.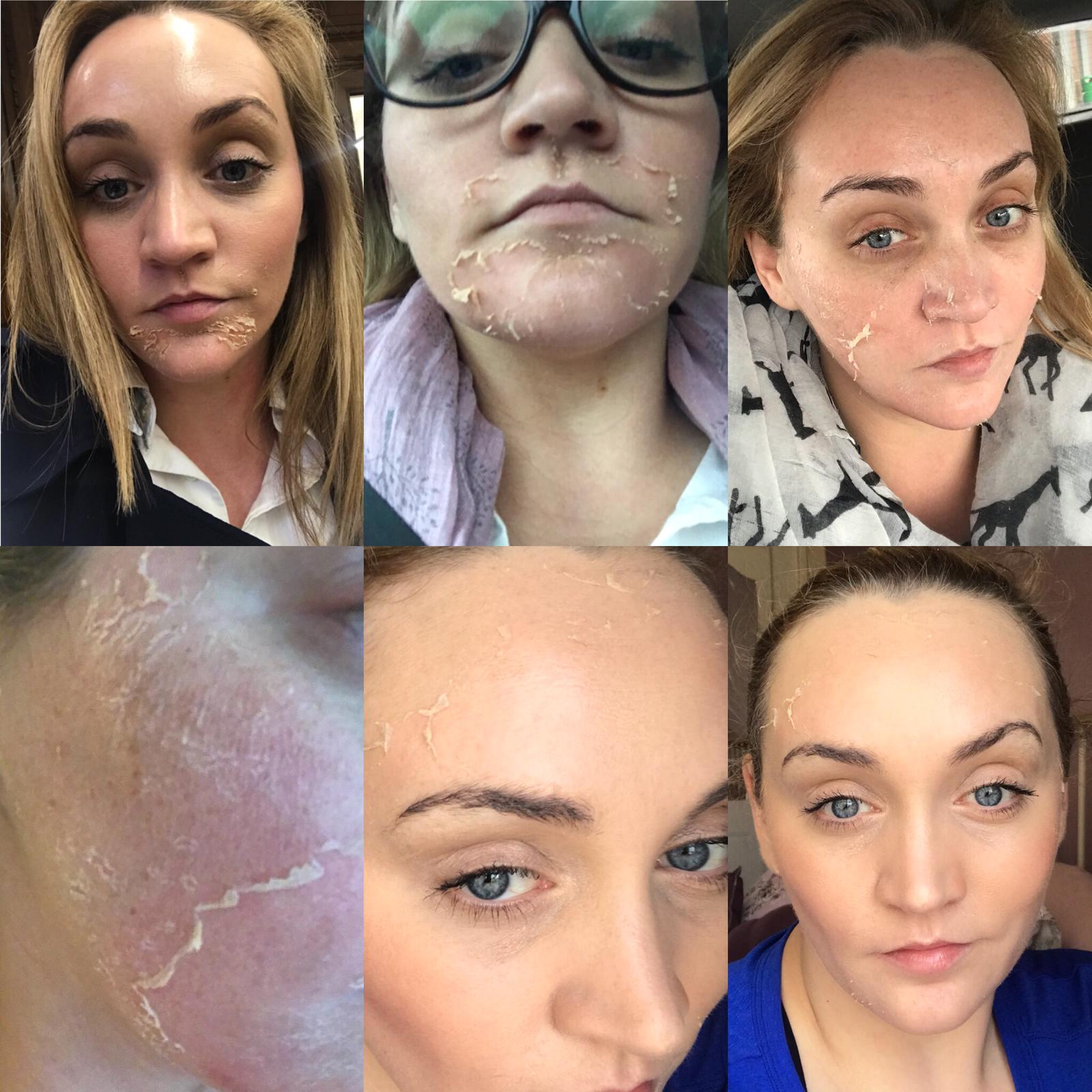 This patient has had a Dermaquest TCA peel and this is her progress over 2 weeks.
Dermaquest is designed to treat the most common skin conditions:
Mild to Moderate Acne
Brown marks and other evidence of sun damage
Improving fine lines and wrinkles
Tightening pores
Giving a more even complexion and skin-tone
Improving the appearance of mild facial lines
The benefits of Dermaquest:
A wide range of products that can be tailored to your specific skincare needs
The range contains daily skincare products as well as peels and resurfacers to achieve your desired goal.
It can be used daily
See your skin improve: Your progress will be monitored at regular intervals with studio quality photographs and complimentary consultations to ensure you are getting the best from your regimen
Cost effective: Dr Fairris will use her experience to improve your skin as cost-effectively as possible. We offer very competitive prices for Obagi.
Dr Fairris is also an Obagi Ambassador. Dhe has won awards for her patient outcomes using Obagi
More information about Dermaquest
How long does it take to work?
8-12 weeks: pigmentation clears, rosacea or acne is controlled
9-12 months, improvement in fine to moderate lines, acne scarring and stretch marks.
4 years: continued use leads to further improvement
Deterioration begins to be seen after 6-12 months if treatment is stopped
What is it?
It is a skin care regime devised by Dr Zein Obagi to enhance the penetration of two presciption-only medicated creams (tretinoin and hydroquinone) into the correct layer of the skin where they can act most effectively.
What ingredients does it contain?
Dermaquest use the highest quality ingredients in their products
Where possible they use their own formulations and make their products in small batches to avoid contamination
They use Vitamins, A, C, peptides and plant stem cells in thier formulations.
Why can't I use my own skin care regime with these medicines?
Dermaquest should become your daily skincare regimen.
There shouldn't be any need for other skincare products whilst using Dermaquest.
Can I use make-up?
Yes: you can wear make up whilst using Dermaquest skinacre products
Mineral based make-up is recommended.
What are the side-effects?
Side effects will depend on the specific treatment or regimen you are using.
With the at-home, daily skincare regimens your skin should look smoother, brighter, with less blemishes and more even complexion.
If using retinol or AHAs and BHAs, your skin may get a little red and flaky from time to time.
The regime will be tailored to your individual skin to maximise the benefits while minimising the side-effects.
Why not use over-the-counter products instead?
Over the counter products may not be as efficacious as Dermaquest as they often do not contain the same level of active ingredients.
Alternative and Combination treatments
Complimentary consultations
Non medical consultations with our in house experienced therapist is free. Medical consultations with Dr Fairris require a £50 deposit to secure your appointment.
All clinical sessions are for people with cosmetic concerns.
We only use top-of the-range aesthetic products
All treatments are carried out by a highly qualified and experienced aesthetic doctor
We aim for subtly, natural-looking results
On-site parking and close to J10 of the M3.
Contact the Wessex Skin Clinic to book a complimentary appointment with Dr Catherine Fairris to discuss your treatment options today